Composting
SUSTAINABLY SUPPORTING EMERGING TRENDS
Behrens Compost Cans are weather, chemical and rodent resistant, odor-free, more durable and longer-lasting than plastic.
THEY CAN BE RECYCLED WHEN THEY'VE OUTLIVED THEIR USEFULNESS.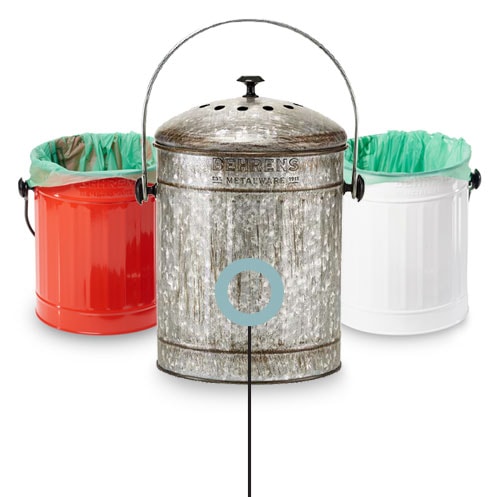 1.5 and 4 gallon aged galvanized INDOOR KITCHEN COMPOSTING PAILS
20 gallon galvanized steel with lid and feet OUTDOOR REFUSE COMPOSTING CANS

Global compost market is expected TO GROW 6% BY 2022
In just the past five years, the number of communities offering composting programs has GROWN BY 65%
If food waste were a country, it would come in 3rd following the US and China for IMPACT ON GLOBAL WARMING
Composting will curtail the amount of rotting food in landfills releasing methane, which has a greenhouse gas equivalency 72 TIMES THAT OF CARBON DIOXIDE
and
The benefits of home and community composting sequesters carbon in the soil (rather than putting it in the air by incinerating waste) and limits methane by KEEPING WASTE OUT OF LANDFILLS.