Using Metal Buckets for Wine, Beer & Entertaining
How often have you gone out to a bar, restaurant, or visited a resort and seen the server, walking toward you, with your order of beer or bottle of wine in a shiny metal bucket? It's not a novel experience, we may not even think about it. However, it really is a great way to serve beer in cans or bottles. These buckets are always filled with ice and the beers are carefully nested in the ice between each other. This allows each beer to stay chilled even after sitting out for a while.
The beer bucket craze started a long time ago. The first container to carry beer from a local pub, was a pail, pitcher, or glass jar in the late 1800's. During the period before World War II, children brought buckets filled with draft beer from the local bar or brewery to workers at lunch or to their parents at dinner.
Today, the tradition continues, and not all beer buckets, are created equal. That shiny metal offers a more upscale and heavy duty look than plastic. Metal helps retain cold better than other materials, so your beverages stay chilled longer which is ideal on a hot day- who brags about a warm beer? They last longer and don't crack when dropped. And because they are metal, they can be recycled just like your can or bottle of beer or wine.  Everyone can afford to be kinder to our planet.
There are several types and sizes that you can purchase, but there are pros and cons to some of the choices. It's ideal to think them through, before you make your purchase, to ensure you are making the right choice.
Types of Beer and Wine Buckets
Selecting the right bucket is essential to ensure you will be able to serve cold beverages, the way you want. Going through all the different materials buckets can come in will depend on the look and functionality you're going for. The 3 most common options are plastic, acrylic, and metal. Whether they are made in the USA or imported.
The most common and basic is the plastic bucket. You can find these buckets at most Big Box stores, toy stores, and hardware stores. Plastic buckets may seem a good idea at first, but you may be remiss to not thinking deeper. Plastic may be a cheaper option and easily accessible, but plastic does have a negative impact on the environment.
Furthermore, it is not the greatest option for retaining the cold within the bucket. So, your beer or wine may get warmer faster, defeating the purpose of the bucket. Finally, plastic isn't the most durable material. You'll find that different temperatures can severely impact the functionality. Under hot temperatures, the plastic can get soft or even melt. In the cold, the bucket can become brittle and crack.
Though acrylic has a different feel, it is a type of plastic. With it being plastic, you will find it has the same issues as a standard plastic bucket. Acrylic was made to be a better alternative to glass. Its properties allow it to be 30 times stronger and 2 times lighter than glass. However, you will still deal with its lack of heat resistance, and your beverages getting warmer, faster.
Additionally, acrylic will be more susceptible to scratches, and could shatter if it falls. In all likelihood, your acrylic bucket will not last long and need be replaced more often than other options.
Galvanized Steel Buckets and Tubs
(What the Heck Does That Mean?)
Galvanized metal is a form of metal that is coated in zinc and therefore does not corrode as easily. For your beverage container, this means that it will last longer and not show signs of corrosion like discoloration or rust build-up. Steel also does not absorb odors.
If you invest in a more expensive beverage tub, like the galvanized metal versions, it will not only be durable, but you can plan to use it for many years if you take good care of it. You'll see this at bars or restaurants, the common material used for beer buckets is metal.
These are the traditional buckets, and there are several reasons for this. Those restaurants put their beverage containers through a lot of wear and tear day in and day out. Galvanized steel buckets can easily stand up to any potential for damage and the spangle of the galvanized steel flaunts a classic rustic appeal and industrial chic.
On top of this, metal can hold the cold temperature in better than other options, though you may have some condensation. Metal buckets can also hold up to the weight of heavy glass bottles, and with a bucket or pail's large bail, it's easier to carry. Another great feature of galvanized beer buckets is that they can be recycled after their usefulness. Metals, like galvanized steel, can be recycled repeatedly without diminishing the quality of the metal. This makes galvanized steel beer and wine buckets a sustainable choice.
What Size Bucket or Metal Beverage Tub Do I Need?
The size of your beverage buckets will really depend on your plans for your gathering. If you are planning to entertain a large group, you might want to consider using a beverage tub instead. Metal beverage tubs range from 5 gallons to 17 gallons, so there will be assize that will work for what you want. Tubs can also be used in a multitude of ways around the house. So even if you are not using it for entertaining, you will be able to use it for storage, planting, decorating, and so much more.
If you decide that you want to have the restaurant/ bar, feel, there is a wide range of buckets sizes for your needs. Beer buckets range from 5 quarts to 4.25 gallons. What you typically see is a 5-quart metal bucket filled with about 5 standard 12-ounce beers stored with ice.  However, if you go to a larger size, you can fit more bottles into one container. With a larger pail size, you want to make sure that you can easily carry it once it is filled. The key, add beverages to the bucket first, then ice. Cold air sinks, so you'll keep the cans and bottles chilled longer if the ice is on the top.
Accessories
Portability is always important as you might need to move your beverage bucket or tub around. They get heavy and portability is important. There are products on the market that you can add to the wire bail or handles of a beverage bucket or tub. They are called Comfort Grips® and can be found in various sizes and colors. Made from 100% silicone they are flexible and can handle the heat and cold. The best part, they add a little bling and color to a traditional steel container.
Lastly, have a plan ready for your gathering. You will need a clear understanding of the number of people attending and how you are setting up your beverage station(s). Having many smaller stations in several different areas, it would be best to go with a 4.25-gallon pail. If you're thinking you'd want people to grab and go or you want to have drinks available at each table, a standard 5-quart pail will work. Buy more than 1 bucket-to have a few so you can separate wines and beer from nonalcoholic options.
Ultimately, galvanized steel wine buckets or metal beer tubs add a touch of class to any party. Your guests will be impressed with your eye for detail and the ease of finding their beverage of choice. As a bonus, rather than storing them after entertaining, you 'll have a rugged container to store those blankets, plants, and more.
Behrens on Sustainability
Behrens wants consumers and retailers to know that steel is one of the most sustainable products on the planet. With 70% of domestic steel starting as scrap metal, it can be infinitely recycled with no loss of inherent properties, is rodent-proof, odor-proof, weather and chemical resistant with zero petroleum. All of these attributes make steel a superior material to plastic, a limited-recyclable material that is shown to harm wildlife, oceans and people.
Visit behrensmfg.com to learn more, including where to find a scrap metal recycler in your area.  An electronic media kit is available at behrensmfg.com/press.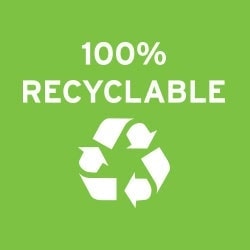 About Behrens
Founded in 1911, Behrens Manufacturing creates high-quality, well-crafted metalware in Winona, Minnesota. From the past century to today, Behrens is forever forged into the fabric of U.S. manufacturing and remains a tribute to American ingenuity and craftsmanship. Behrens Manufacturing is proud to be the number one steel container manufacturer in America. Visit online at behrensmfg.com to learn more.