How To Create Container Gardens for Fall
It may still be summer, but now is the time to start preparing to grow your fall produce. Your fall crops may need extra time to mature, but that doesn't mean you should forgo a fall container garden. Discover what to plant in galvanized tubs for growing in the cooler season.
Get Your Seeds Started Now.
Now is the time to get your seeds started. The best option is to care for them indoors until they are ready to be planted in their dedicated space. There are many different options to choose from that can produce amazing results. According to the Spruce, these plants work well for cooler weather.
Depending on your zone and if you are starting from your own seeds, you should have hearty seedlings ready to transplant in late August to mid-September. Once they've had the chance to grow for 3 weeks, your seedlings will be hearty enough to plant in your tub planter. It's best to choose a day it is cloudy. You have until the first frost begins. If you transplant them after, your plants will likely grow too slowly to yield any vegetables from your garden
Choosing Your Container.
There are many options you could choose when planting your seedlings. Galvanized tub planters are an excellent way to maximize your space when gardening. Plus, it gives you the versatility to bring plants indoors when the weather turns severe. With many size options, you can plant one crop per metal planter or fit several complementary plants together.
It's important to think about the material of the tub planter. You want to choose something that will withstand extreme changes in weather, as fall can be an unpredictable time, as well as, if you're bringing your plants in and out of the house. Galvanized steel planters are the best option, as it is durable, sustainable, and will retain its strength, regardless of weather changes. Plastic tends to get brittle and cracks, particularly once the weather gets cold. This prevents it from being an ideal choice for transitioning weather.
Galvanized steel planters are an ideal choice from a sustainability perspective, too. Behrens makes metal tubs and galvanized pails from 100% recycled steel. Once the usefulness of the container is over, it can then be recycled at a metal recycling center.
Prep Your Soil.
You want to prepare your soil before you begin planting anything. Depending on what you plan to grow, you may wish for your soil to be neutral, carbon-rich, or nitrogen-rich. The best way to up those nutrients is by spreading compost (learn more about composting) or even manure. You can also look at what you'd previously planted in each area to determine what you should plant in fall. For example, growing spinach or cabbage using a space where you had grown beans or peas, would be ideal. The plants naturally prepare your soil for the right nutrients to effortlessly grow your spinach and cabbage. It's good to research those relationships to plan your year-round garden plantings for the future if you aren't already doing so.
Continuing Plant Care.
When watering your fall crops, you will need to strictly monitor them to ensure the soil does not become too dry or too wet. It's best to hand-water as your plants become established. Use a watering can that provides a nice sprinkle, rather than dumping a large amount of water all at once. When your soil is too dry, you could be causing a significant amount of stress for your plants. This is a substantial detriment to the plants' ability to grow. Fall plants do well when the soil remains moist, meaning you'll need to check daily that the soil continually feels damp to the touch. You'll also want to spread mulch around the area of the plants, which will help insulate them and help keep the warmth and moisture from escaping too quickly during harsher weather.
Managing Those Pests.
Planting in containers is an excellent way to detract pests from showing up on your plants (plus, it provides the versatility to bring plants indoors when the weather takes a turn). With many size options, you can plant one crop per planter or fit several complementary plants together. Even though you are planting in a container, you may still need to take additional measures. According to towergarden.com, you can use their list to find associated plants that repel pests naturally. You can also try using Neem oil mixed with equal parts insecticidal soap and water in a spray bottle. Regardless of your chosen method, we recommend using only natural products, especially if you are planning to eat what you grow.
Harvesting Your Vegetables.
Hopefully, you now have a firm grasp on how to get the most out of your growing seasons. Fall doesn't always come to mind when you think about planting. Don't limit yourself to just a few months, maximize time and get planting for this fall!
Discover Behrens Lawn & Garden collection to view different types of raised planters that will make you a garden rock-star.
Behrens on Sustainability
Behrens wants consumers and retailers to know that steel is one of the most sustainable products on the planet. With 70% of domestic steel starting as scrap metal, it can be infinitely recycled with no loss of inherent properties, is rodent-proof, odor-proof, weather and chemical resistant with zero petroleum. All of these attributes make steel a superior material to plastic, a limited-recyclable material that is shown to harm wildlife, oceans and people.
Visit behrensmfg.com to learn more, including where to find a scrap metal recycler in your area.  An electronic media kit is available at behrensmfg.com/press.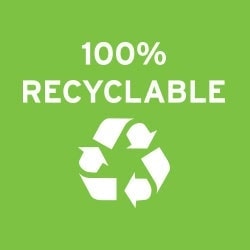 About Behrens
Founded in 1911, Behrens Manufacturing creates high-quality, well-crafted metalware in Winona, Minnesota. From the past century to today, Behrens is forever forged into the fabric of U.S. manufacturing and remains a tribute to American ingenuity and craftsmanship. Behrens Manufacturing is proud to be the number one steel container manufacturer in America. Visit online at behrensmfg.com to learn more.