Is Galvanized Steel Safe? A Safety Guide for Steel
Thinking about starting a raised-bed garden or just planting some individual plants into a galvanized steel bucket? There is so much information out there, it can sometimes be hard to navigate what information to go by. As manufacturers of galvanized steel metalware, we understand its safety first-hand. Galvanized steel products are a great addition to your garden arsenal. They offer durability, damage resistance, and lasts for decades. These types of galvanized containers look great and fit well with farmhouse décor or industrial décor.
What is galvanized steel?
Galvanized steel is steel that has gone through the process of having a protective coating of zinc applied, to reinforce the steel. There are several benefits galvanized steel provides, including extending the life of steel up to 50 years. Galvanization also keeps the metal corrosion-resistant, requiring little to no maintenance over its usable life. One of the most common types of galvanizing is hot-dipped steel. It's very easy to tell if metal has been treated with hot dip, as it will have a corrugated texture to the metal.
How safe is galvanized steel for growing vegetables?
Since many of us are not familiar with the galvanization process, it is easy to wonder if this type of steel is safe for human and/or animal use.
Zinc is a naturally occurring element that we are exposed to everyday and is considered an essential micronutrient for plants and humans (in small amounts).Zinc, in its finished form, does not provide a toxicity risk. However, like most things, if too much zinc gets in your system, or the metal has significantly deteriorated, the underlying steel can potentially leach toxins. That is why it's always good to regularly check the integrity of your galvanized steel containers. If you find that your metal garden container is past its useful life, you can find a metal recycler nearby and get a little cash back, too. Find a metal recycler now.
Is galvanized steel food safe?
Galvanized steel is not USDA approved as a food safe serving standard, particularly, for acidic foods. As such, you will want to keep galvanized steel from direct contact with any acidic foods. For this reason, we always recommend lining your galvanized steel serving trays with parchment or wax paper. This precaution protects you and protects the metal from any accidental interactions.
When it comes to drinks, it's perfect to use your galvanized steel tubs as beverage tubs. Keep your ice and beverages cold during get-togethers when entertaining. You won't have to worry about any of these issues when you store bottles or can, as these acidic items are already contained in glass or aluminum.
So, if galvanized steel shouldn't get hot, is it bad to leave the container outdoors or in the sun?
Surprisingly, they've found that the dampness of the soil can keep the metal from getting too hot. The added benefit of the minimal heat is that it allows you to start your garden a little earlier than if planted in the ground. Plus, your plants love to thrive in the warm soil. Additionally, if you live in cold temperatures like ours (Behrens is based in Minnesota),  it helps keep the soil temps more consistent, even when the weather is not.
What do I do if my plants love acidic soil?
The best suggestion would be to get a liner. These liners are an inexpensive option, however, they are typically plastic. If you are like us and don't love plastic, then it would be wise to save those plants for the ground or use a substitute made from bamboo, rice husks, coco, or other organic products.
Is it ok to use galvanized steel for feeding dogs, cats or farm animals?
If you are using it for dry food and just water, you shouldn't be concerned at all. They've found that the minimal amount of zinc animals may get from the water out of galvanized pet dishes has improved zinc levels in animals and humans (your body requires zinc to function). We do want to re-iterate the point that the big issue people have with galvanized steel safety, is to ensure your metal pet water dishes are not rusting or deteriorating in any way. Behrens products are tested for lead content and do not require any Prop 65 warning labels.
Galvanized Steel Containers Are Safe for Most Uses.
Since it requires acidity to break down the zinc coating on galvanized steel, and most garden soils are neutral, there's little to no impact.  Zinc is an essential plant micronutrient and a normal part of our soil. But it is important to check the integrity of your containers on a regular basis.
Behrens Galvanized Steel containers are highly durable, weather, chemical and rodent and are 100% recyclable. When metal products reach the end of their useful life, the materials are simply collected and recycled, again and again, with no loss of their inherent properties. Interested in learning more about starting a container garden? Check out our blog post on "Starting a Container Garden". Galvanized steel is a better choice than plastic!
Behrens on Sustainability
Behrens wants consumers and retailers to know that steel is one of the most sustainable products on the planet. With 70% of domestic steel starting as scrap metal, it can be infinitely recycled with no loss of inherent properties, is rodent-proof, odor-proof, weather and chemical resistant with zero petroleum. All of these attributes make steel a superior material to plastic, a limited-recyclable material that is shown to harm wildlife, oceans and people.
Visit behrensmfg.com to learn more, including where to find a scrap metal recycler in your area.  An electronic media kit is available at behrensmfg.com/press.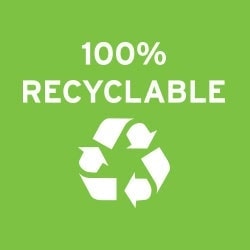 About Behrens
Founded in 1911, Behrens Manufacturing creates high-quality, well-crafted metalware in Winona, Minnesota. From the past century to today, Behrens is forever forged into the fabric of U.S. manufacturing and remains a tribute to American ingenuity and craftsmanship. Behrens Manufacturing is proud to be the number one steel container manufacturer in America. Visit online at behrensmfg.com to learn more.