5 Things to Look for When Sourcing Your Next Retail Product
As a retail owner or purchasing manager, when shopping for products to sell in your store, you have many choices. Why should you choose Behrens? We may be biased, but we think it's a choice that makes sense.
Sourcing your products is one of the most important decisions you can make. You need to stay on top of (or, ideally, ahead of) trends, watch the market, and above all, keep a close connection to your customers' wants and needs. It's not simply a matter of "if you stock it, they will come." It's deeper than that. It's talking to your customers and staff, watching your sales analytics, and simply noticing what's flying off the shelves and what is collecting dust.
Two current trends that are hot right now and will continue to be in the future are heritage brands and sustainability. Many studies have been done about consumer preferences and trends, all of which find basically the same thing Cone Communications found in their research in 2017:
90% of Americans expect companies they patronize to operate in a way that protects and benefits society and the environment.
76% would boycott a company that supported an issue contrary to their beliefs.
In other words, sustainability matters to consumers.
Built for Now, Made to Last
How many times have you had customers return a product because of poor quality? We believe this happens far too often. We are getting used to disposable everything, from smartphones that wear out at "coincidentally" the same time as an upgrade is released, to non-recyclable or plastic products that end up in landfills, wreaking havoc on our environment. At Behrens, we are on the opposite side of the coin, conscious of our impact on the environment. It is rare to find customers returning our pails, trash cans, metal buckets and other product lines. Behrens Home Industrials line adds a modern, simple twist on classics for the home. Our products deliver rust resistance, erosion prevention, protects from rodents and is kinder to the planet. Behrens products are made from 100% sustainable materials and are 100% recyclable. For 100 years, we have delivered on our promise. Our galvanized steel and hot-dipped galvanized steel products are made to stand the test of time.
While value and an easy buying process are still main drivers for purchase decisions, sustainability is becoming a substantial factor.
100% Recyclable = Sustainable
It's estimated that an astonishing 80% of all metal ever produced is still in use today. Galvanized steel is rarely wasted and can be easily recycled. Behrens products are also 100% recyclable. When metal products reach the end of their useful life, the materials are simply collected and recycled, again and again, with no loss of their inherent properties. Why is that important? Consumers care about how products impact the environment. This is expected to continue to grow in importance over the next few years.
Barron's recently reported that, according to a new study by IBM and the National Retail Federation, 70% of consumers, from Gen Z to baby boomers, prefer sustainable brands. They'll even pay more for them, and most are willing to change their shopping habits to reduce a negative impact on the environment.
Behrens Products are Versatile
At Behrens, our galvanized and hot-dipped steel pails and tubs were designed by our founders more than a century ago as a tool for hard work. But somewhere along the way, people started discovering their versatile side. People are using them in all kinds of new ways, including home decor. These products are multi-purpose and they're the perfect addition to add a touch of trendy farmhouse and industrial aesthetic. Our shiny, galvanized steel bushels are good for storage bins, for everything from firewood, kindling, magazines, blankets or fireplace tools. Our home line, Home Industrials, includes mugs, trays and vintage-style tubs for entertaining; pet dishes, bird feeders, compost pails and more. They're perfect home decor accents. It all adds up to the fact that you can sell them in versatile ways.
Consumers Value Brand Trust
To us, it feels like common sense, but new research by Edelman highlights the importance of brand trust to consumers. Reasons for this are all over the map. For one-third of people, it's about the uncertain economy. They don't want to waste money on risky purchases from companies they don't know and trust. For others, 73%, it's about proven, time-tested quality. Still others say the pace of innovation gives them pause, and choose instead to buy from trusted brands. Behrens has been in business for 100 years. Brand trust? We've earned it.
Consumers Value Heritage Brands
Heritage brand present a long history and consistency in their products which leads consumers to value their continuity and authenticity. There is also a feeling of nostalgia. Behrens is proud to be considered a heritage brand. What does it mean, exactly? It means quality that has stood the test of time. We've been around for 100 years, starting as a simple hardware store in Winona, Minnesota. We're still based there, but we've grown since then into manufacturing the galvanized steel products that people have used for generations.
We've never skimped on quality and workmanship, and we're still delivering the same reliability and durability that our company was founded upon. We're proud of the trust consumers have put in us all along the way, and we'll never let them down. That translates into trust that's been earned.
Whether your consumers need our Metalware Classics products like pails, buckets and cans for tough jobs, or our new, ultra-versatile Home Industrials line that you can use for everything from entertaining to cleaning and organizing to home decor to gardening, you know you're getting the time-tested quality, durability and legacy that comes from a rich, 100-year history.
Behrens on Sustainability
Behrens wants consumers and retailers to know that steel is one of the most sustainable products on the planet. With 70% of domestic steel starting as scrap metal, it can be infinitely recycled with no loss of inherent properties, is rodent-proof, odor-proof, weather and chemical resistant with zero petroleum. All of these attributes make steel a superior material to plastic, a limited-recyclable material that is shown to harm wildlife, oceans and people.
Visit behrensmfg.com to learn more, including where to find a scrap metal recycler in your area.  An electronic media kit is available at behrensmfg.com/press.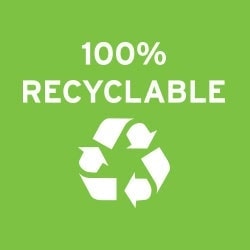 About Behrens
Founded in 1911, Behrens Manufacturing creates high-quality, well-crafted metalware in Winona, Minnesota. From the past century to today, Behrens is forever forged into the fabric of U.S. manufacturing and remains a tribute to American ingenuity and craftsmanship. Behrens Manufacturing is proud to be the number one steel container manufacturer in America. Visit online at behrensmfg.com to learn more.